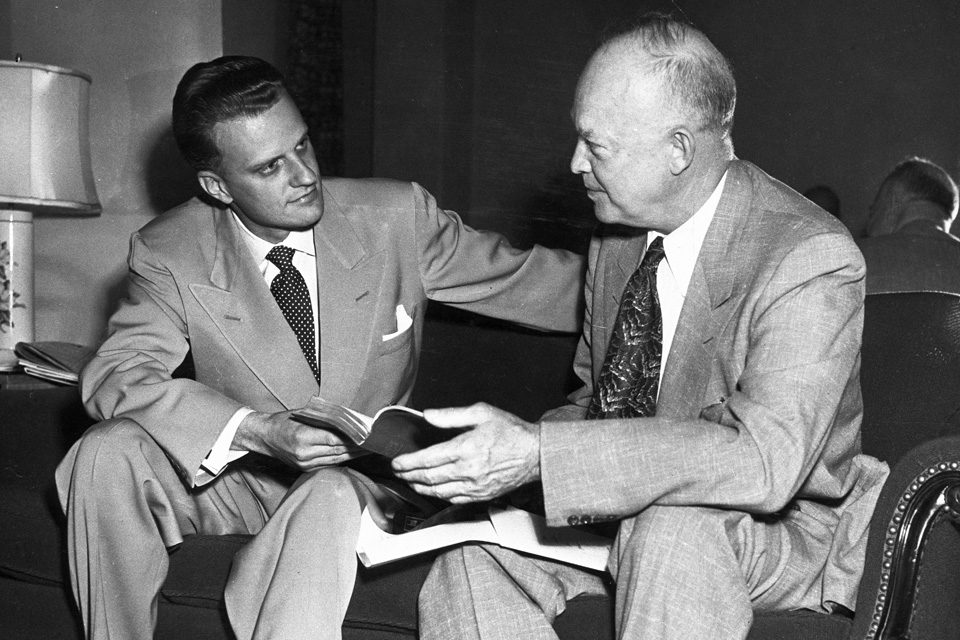 Q: Which Bible verse did President Eisenhower quote in his inaugural speech, at the suggestion of Billy Graham?
A: 2 Chronicles 7:14—"If my people, which are called by my name, shall humble themselves, and pray, and seek my face, and turn from their wicked ways; then I will hear from heaven, and will forgive their sin, and will heal their land."
Billy Graham and General Dwight Eisenhower became friends before Eisenhower was elected President of the United States.
Shortly before Eisenhower's inauguration in Jan. 1953, the president-elect asked Mr. Graham for some Bible verses to use during the inaugural speech. Mr. Graham made a few suggestions including 2 Chronicles 7:14, which Eisenhower chose. He rested his hand on that passage of Scripture as he took his oath of office.
President Ronald Reagan opened the Bible to the same passage when he took his oath of office in 1981 and 1985.
In Jan. 2017, Vice President Mike Pence rested his hand on the same verse—using President Reagan's Bible—when he took his oath.
View Photos: Billy Graham and the Presidents
Read More: U.S Presidents Honor Billy Graham Following His Death