March 17, 2020

WHEN YOU'D SWEAR IT'S OVER!
When Lamech had lived 182 years, he fathered a son and called his name Noah.  Genesis 5:28-29
At four different points in my life, I've faced utter hopelessness. It appeared at each that life was simply over. Too much wrong. Too much tragedy.  Too much evidence that a resurrection of any kind was impossible. I swore it was the end.
It is an awful thing for a human being to witness the degeneration of anything. A marriage, a child's future, someone's health, failing business. All self-efforts to save can amount to nothing. The end seems inevitable. And if one witnesses this slow death over a long period, God can appear powerless as His seeming absence reinforces the lie that He's not going to do anything to rescue.
God is never out of options. Never. God is never stewing, wondering how He will pull off a resurrection. Never. God never withholds to be cruel. Never. God's plan is never made at the last minute, in haste. Never.
The birth of Noah is proof of God's faithfulness. When the world was sinking into evil and lawlessness, how would God's promise to Adam and Eve ever be fulfilled? How would a Savior arise out of a world that God was going to destroy? Certainly, it appeared that God was nullifying what He had guaranteed back in the Garden. If we had lived in the days of Noah, watching evil reign on the earth, we would have doubted the ancient whispers of a God who spoke to our forefathers.
In some cave or primitive dwelling place, a baby was born. He was named Noah. The meaning of this baby's name was "comfort." God brought a baby to the scene, not a Red Sea deliverance. God brought a nine-pound bundle of joy instead of a spirit of repentance to the whole of society. God's plan of redemption was ushered in without fanfare and the power of this tiny life would not be seen for hundreds of years. Yet, God's saving plan was in place.
God is never inactive. Never.  God is working on my behalf. Always. When I can't conceive of a salvation to all that is wrong, He's already planned it. When I'm looking for an earthquake to prove His power, He often brings the answer in a baby's cry.
In every place someone is fainting today, let them declare that You are the God of beginnings.  Amen.
For more from Christine Wyrtzen and Jaime Wyrtzen Lauze, please visit www.daughtersofpromise.org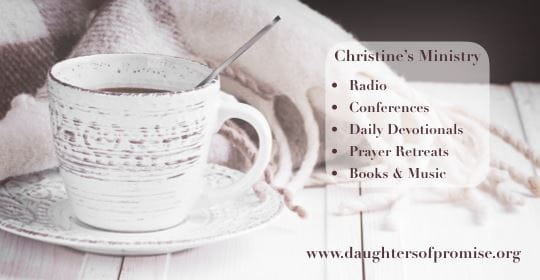 March 17, 2020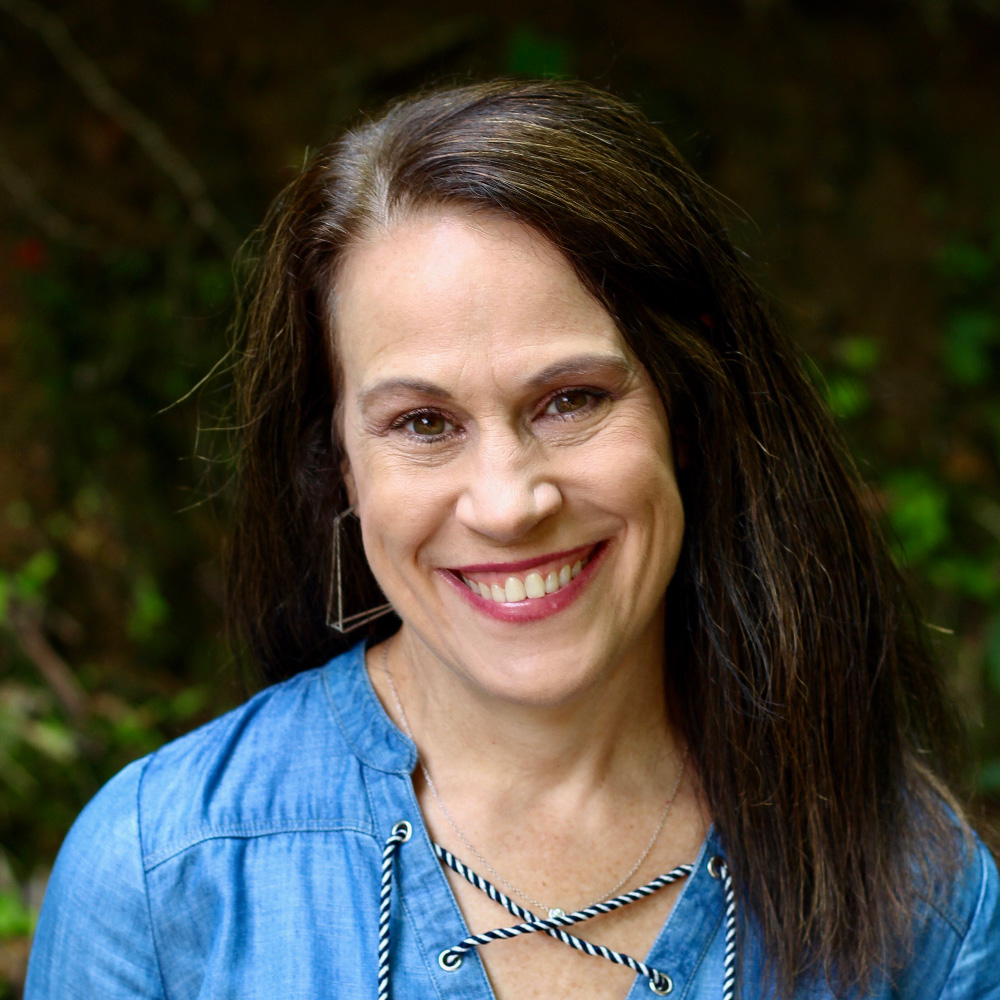 March 17, 2020
Learning to Embrace Change
LYNN COWELL
"But blessed is the one who trusts in the LORD, whose confidence is in him." Jeremiah 17:7 (NIV)
Looking out my kitchen window, I wonder where this wave of sadness is coming from. Life is good. My kids are out on their own, working in careers they studied for and are passionate about. I should be happy about that, right?
I am! I am happy about that.
So why the tears?
Then I see my yard for what it is: empty. No kids on the trampoline. No one playing in the springtime sun. Quiet. Empty.
I hadn't expected these feelings to filter into my heart. My kids have been flying back and forth from this nest for many years, slowly but surely making lives of their own. The release has been small, manageable steps to the independent lives they live today. And while I'm excited for their adventures, I'm also a little sad in this change of season for me.
Isn't it just the worst to have to admit something is over? Transitions in life can sometimes be exciting. And sometimes they're just plain hard. At times, they can even be an odd mixture of both. That's where I am. It's exciting to see my kids doing work they are gifted for, and it's hard to have them so far away and not see them as often as I would like.
I am trying to embrace different.
There have been many seasons of different in my life; I'm sure there have been seasons of different for you, too.
Bringing home a baby for the first time, starting a new role or learning a hobby. Different can feel so uncomfortable. What am I doing? I don't know how to do this. Overwhelm tries to take over. Doubt seeps in. Leaving a secure job to stay at home or leaving the safety of home to secure a job. I knew how to do that. But this … I don't want this. From potty training to personal training, from restoring failed finances to restoring failed relationships, our hearts and minds whisper: It would be so much easier to just check out. Slip into survival mode.
Maybe we're there already.
During these times of transition and change, we have the opportunity to look again at where our confidence lies. Have we been basing it on our titles of "mom," "employee," "daughter" or "volunteer"? With that season gone, has our confidence gone as well?
Today's key verse helps us take a close look at our confidence and where we are putting our trust: "But blessed is the one who trusts in the LORD, whose confidence is in him" (Jeremiah 17:7).
When we build our confidence in the Lord, trusting Him for our worth, our purpose and our next step in life, Jeremiah 17:7 says we will be blessed. It doesn't say we will have it easy, but we can be blessed with peace and the knowledge that no matter what changes next in our lives, the Lord never will. He is secure, stable and steady.
Is it OK to still grieve in our times of change? Absolutely! Acknowledge it. Cry those tears and share your pain with a friend. Whether the change is something good like a marriage or painful like a death, change is still hard.
Yes, it is a good thing to see change for what it is. So, I'm going to sit here for a bit, let the tears fall, and thank the Lord for all the good, even while I grieve a little.
Oh, dear Jesus, thank You that You get me even when I don't get me. I am so grateful, Holy Spirit, that You are in me, helping me to process change and preparing me for the next season of my life. In Jesus' Name, Amen.
TRUTH FOR TODAY:
Proverbs 3:26, "For the LORD will be your confidence and will keep your foot from being caught." (ESV)
RELATED RESOURCES:
God's Word is full of stories of women who faced transitions and experienced God's confidence in the midst of those changes — women we can learn so much from. Click here to purchase Lynn Cowell's study for women about women: Make Your Move: Finding Unshakable Confidence Despite Your Fears and Failures.
At Proverbs 31 Ministries, our Monthly Partners aren't just giving financially, they are a part of the family. Every Monthly Partner is helping provide encouraging, biblical resources to women just like you. It's more than a number, it's a ministry. Join the family by donating here.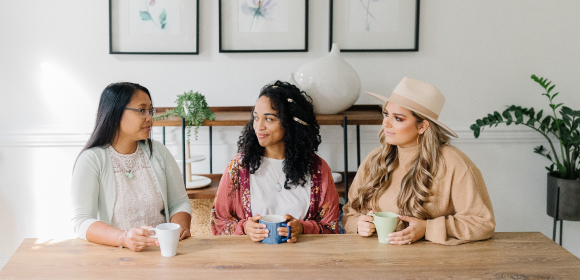 CONNECT:
On her site today, Lynn is sharing a beautiful downloadable print of today's key verse, Jeremiah 17:7. Click here to print yours.
REFLECT AND RESPOND:
What season of change have you been through, currently face, or can see on your horizon? We'd love to hear from you in the comments!
Ask the Lord to show you if there is any part of your worth or confidence you've based on the work you do or the title you have (or are longing to have). Then, pray for that confidence to be shifted so it's based on Him alone.
© 2020 by Lynn Cowell. All rights reserved.
Proverbs 31 Ministries
630 Team Rd., Suite 100sdfsdfd
Matthews, NC 28105
www.Proverbs31.org