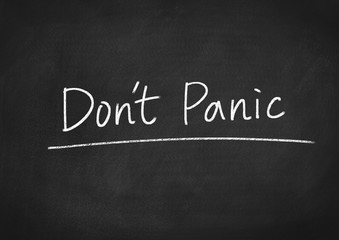 Be still and know that He is God (Psalm 46:10). God has it!
In times of crisis, as Believers we turn to God. It can be hard to stand still during times of uncertainty and turmoil, and to wait patiently for God. We tend to panic when God doesn't do it on our timetable. Remember that God's ways are not our ways (Isaiah 55:8-9). We are to trust Him and know things change on His schedule. We cannot become impatient and panic. God's timing is always perfect. He has a purpose and plan for when things are to happen.
Be still and know that I am God; I will be exalted among the nations, I will be exalted in the earth!
(Psalm 46:10)
Godly character needs to manifest in our lives. The Holy Spirit produces Godly character in us by the storms we go through. We have a testimony for what we went through and what God has done for us. Trust God through the ups and the downs. God will never leave us nor forsake us (Deuteronomy 31:6). He is always there and always providing. God is faithful!! Don't panic! Trust God! Often times we don't allow God to have full control. Things get worse when we panic, and not allow God to have control. It's like making a hole, an even bigger hole. If you know Him, and you have a relationship with Him, then you don't have to worry…God got you!
If you have a relationship with God, then you have a hunger for the Word. If you don't have a hunger for the Word that is a strong indicator that you may not be saved or have backslidden and need to rededicate your life back to Him. Today people know more about what the church should do with its finances, what the church has, what the church should do than they do know about God.
The Lord is my light and my salvation; Whom shall I fear? The Lord is the strength of my life; Of whom shall I be afraid?
(Psalm 27:1)
Who shall we fear?
Don't keep running from God!
Come to God, not out of panic, but because you recognize that you are a sinner in need of grace.
Trust that God is all powerful!!
The battle is mine, says the Lord.
Waiting helps us to have patience, it increases our faith. God is big enough to handle ANY crisis you may face.