AUGUST 29, 2020 | DAVE KUBAL, PRESIDENT/CEO OF IFA
Father, help us to always remember and cling to the truth that greater are You that is in us, than he who is in the world. Do not let us give way to fear.
Thursday night I had the privilege of attending President Trump's acceptance speech on the South Lawn of the White House. It was very presidential—a first-class event, with all the major media outlets and many dignitaries we all would recognize present. Many of you likely watched and saw what I experienced there. For me, though, the story of last night did not occur until after the event.
I received text messages throughout the evening that protesters were outside the White House grounds attempting to disrupt the event. I could hear them, off in the distance, along with police sirens. I could tell by the pattern of police sirens that the protests warranted increasing police presence. I assumed arrests were being made. News reports later confirmed this.
At the end of the evening, I attempted to leave out of the East Gate of the White House, but we were told by the police that they would not be releasing people through that gate because it was not safe.
Please understand the scene: over 1,000 people attending the event, the men mostly in suits and ties and women in dresses and high heels, were told it was too dangerous to walk outside of the White House! We were directed to leave by the West Gate, and told, "This is a very fluid situation," which is code for a situation that is not under control. As I neared the West Gate to leave the property, I was passed by a swarm of police on bikes who were racing to their positions.
Once out on the street, I discovered the police had pushed back all street traffic to create a three block perimeter around the White House. Because of this, it was relatively calm where everyone was released. However, no cars meant no taxis or Uber pickups, resulting in more than 1,000 people needing to walk blocks to get to their location! Suits, ties, high heels made a sharp contrast with protesters in shorts and t-shirts. It was painfully obvious who had been at the event that the crowd was protesting.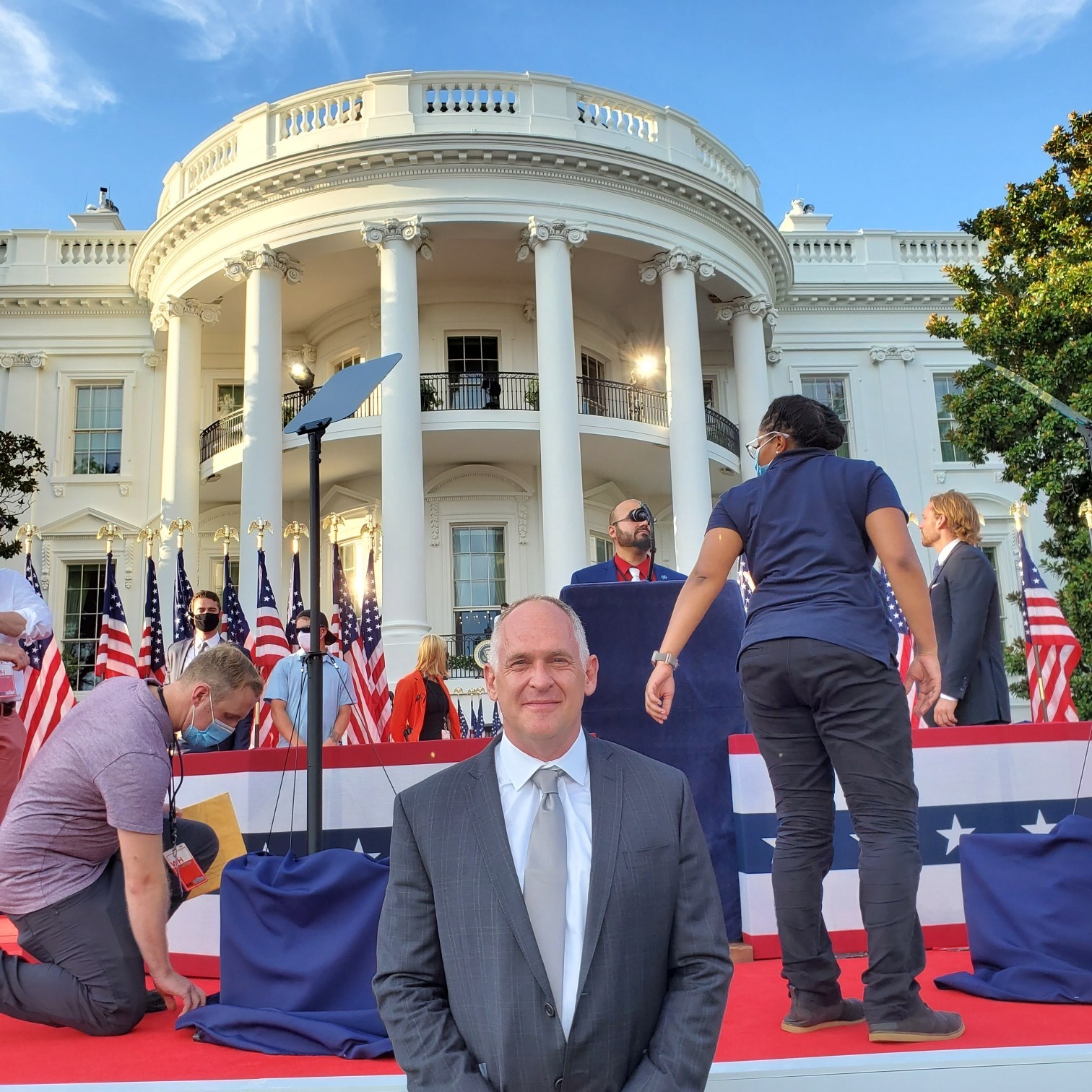 Unfortunately, my destination required me to walk right through the main protest area (as of last night) in D.C. This is right in front of the White House, where D.C. Mayor Muriel Bowser paid for government workers to paint BLM (Black Lives Matter) on the street in massive letters. I could smell marijuana; people were shouting expletives and just milling around. A group of three men walked toward me, not veering from their course, requiring me to change my direction or I would have physically run into them.
I am 6'2", 230 pounds, and an avid cross fitter. I am not easily intimidated. For the first time in my life, in America, I feared for my physical safety. And where? One block from the White House in our Nation's Capital.
I sensed a palpable, supernatural, unified spirit of anger. Ephesians 2:2 describes ". . . the prince of the power of the air, the spirit who now works in the sons of disobedience . . . " It is one thing to experience the riots and protests from a safe distance on the internet or television. It is another to walk in the midst of what is clearly a spiritual battle.
Now, more than ever, I am convinced we must pray for Americans to desire the restoration of law and order. We need to pray that our governmental leaders would step up their task of restraining evil (Rom 13:3-4; 1 Pet 2:14).
Now, more than ever, I am convinced that the growing network of Intercessors for America are being used by God to push back the forces of evil in our nation. Don't lose heart and don't give up!
Little children, you are from God and have overcome them, for he who is in you is greater than he who is in the world. (1 Jn 4:4)
(Photo Credit: Getty Images.)I PRAYED3104 People PrayedPRINT COMMENT150SHARE707 SHARES 23948 People have read this articlePREV | NEXT
Your email address will not be published. Required fields are marked *
Comment
Name *
Email *
Notify me via e-mail if anyone answers my comment.
150 Replies to "DAVE KUBAL: EYEWITNESS ACCOUNT OF D.C. PROTESTS AT TRUMP EVENT"
JOIN OUR MAILING LIST