Just One Thing
by Berni Dymet
Romans 12:9-10 Let love be genuine; hate what is evil, hold fast to what is good; love one another with mutual affection; outdo one another in showing honour.
Families are falling apart these days at almost the rate of one in two. Scary. And no one's immune. There's not some magical immunisation shot you get to protect you against divorce when you accept Jesus into your life.
And a lot of it's about our own selfishness. We all know marriage is about honouring one another – but somehow we want our soul mate to honour us on our terms and that's it.
But that's not how it works. Honor is a two way street. It works both ways.
Let me ask you something if you're married. On a scale of one to ten – how's your marriage right now? Is it healthy, is it all happening, are the two of you close? Hmm. Sobering thought.
And here's the second thing – if your wife or your husband would change one thing in you – something you say or do – something they need from you on their terms and not yours, what would that be?
Well – don't just sit there…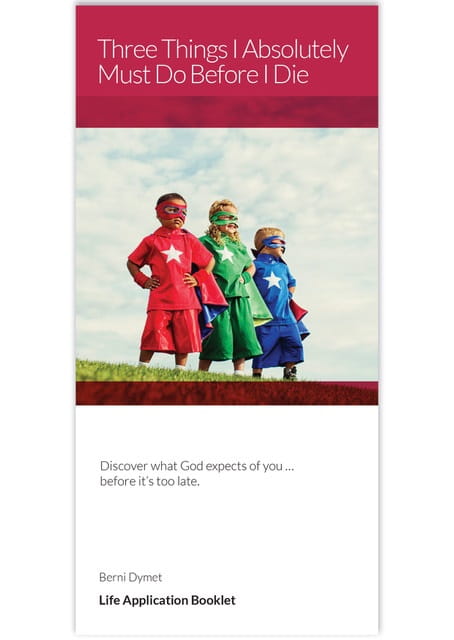 YOUR FREE BOOKLET – THREE THINGS I ABSOLUTELY MUST DO BEFORE I DIE
Here's a vital question for you to consider: If you died tonight, would you be ready for eternity? Now, many people know that it's all about having a simple faith in Jesus Christ. Nothing more, nothing less. But … do you have the sort of faith that Jesus talked about? To help you answer that question for sure, that's what our latest Life Application Booklet is all about: Three Things I Absolutely Must Do Before I Die. We would absolutely love to send you your very own FREE copy to help you make sure that you have the right answer, to the most important question of all.