from Day by Day with the Persecuted Church
Even though it is difficult to determine the circumstances in which David wrote this psalm, its content speaks for itself. In the midst of danger, David takes refuge in the Lord. "What can I do?" he sighs. The opposition is enormous, but God is in control. That is why he takes refuge in Him.
David
In the Lord I take refuge. How then can you say to me, "Flee like a bird to your mountain.
For look, the wicked bend their bows; they set their arrows against the strings to shoot from the shadows at the upright in heart.
When the foundations are being destroyed, what can the righteous do?"
The Lord is in his holy temple; the Lord is on his heavenly throne. He observes the sons of men; his eyes examine them.
For the Lord is righteous, he loves justice; upright men will see his face.
(Psalm 11:1-4, 7)
Copyright [C] 1995 Open Doors International. Used by permission.
Click here to sign up for a free monthly newsletter from Open Doors about persecuted Christians.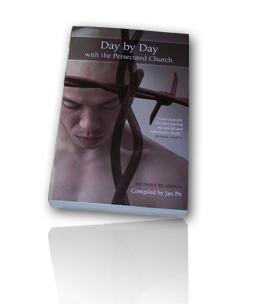 Day by Day with the Persecuted Church
compiled by Jan Pit with a forward by Brother Andrew (paperback, revised 2000)
Compelling wisdom from the pen of actual believers living amidst persecution, you'll be connected to the suffering, courage, and depth of life that exists in the harshest places in the world. Each of these 365 thought-provoking devotions will deepen your understanding of Christian persecution and provoke you to pray for our brothers and sisters with a new found depth.