from Day by Day with the Persecuted Church
For he will command his angels concerning you to guard you in all your ways. (Psalm 91:11)
Lucien Accad
It was 4.00 pm. "Don't go home tonight," they told me at the office. I had to cross from the side of town where our office was located to the other side where we lived. "It is too dangerous; a group of young men are kidnapping people crossing between the two sides of town." I knew I had to go; there was no way I could telephone home. As I reached the last crossing point the soldier told me to wait. "You can't cross now, there is a sniper; a man in a car has just been injured." I asked if they were going to reopen the road soon, and was told they were, and that I could wait where I was. In the meantime a long queue of cars had formed and was waiting behind me.
After 10 minutes the soldier said, "You can go now." "How do you know things have changed?" I asked. "I haven't heard anyone contact you." "Well, it has been like this every day lately; someone has to try…!" It was not easy to be the first to try.
In a situation like this it is good to remember that God is on our side and the angels are in charge, but it remains a frightening experience. No one was following me. At the end of the road the young men I had been warned about stopped me, demanding to see my ID papers. When they discovered that I was a pastor, instead of kidnapping me, they asked for a copy of the Bible.
"Great is thy faithfulness, O God my Father."
Lucien Accad from Lebanon. He was the Director of the Bible Society in Beirut. His house was severely damaged many times during the war in Lebanon.
Copyright [C] 1995 Open Doors International. Used by permission.
Click here to sign up for a free monthly newsletter from Open Doors about persecuted Christians.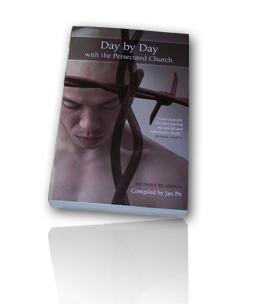 Day by Day with the Persecuted Church
compiled by Jan Pit with a forward by Brother Andrew (paperback, revised 2000)
Compelling wisdom from the pen of actual believers living amidst persecution, you'll be connected to the suffering, courage, and depth of life that exists in the harshest places in the world. Each of these 365 thought-provoking devotions will deepen your understanding of Christian persecution and provoke you to pray for our brothers and sisters with a new found depth.