Merely uttering the words "Hawaiian Islands" conjures images of lush tropical forests, trailing vines, flamboyant orchids and hibiscus blossoms, craggy lava beds and, most of all, fantastic beaches. Stretches of white or black sand, the bluest waters, frothy surf crashing against the shore…no matter which of the Islands you choose to visit, a perfect swimming beach awaits.
Hapuna State Beach
THE BIG ISLAND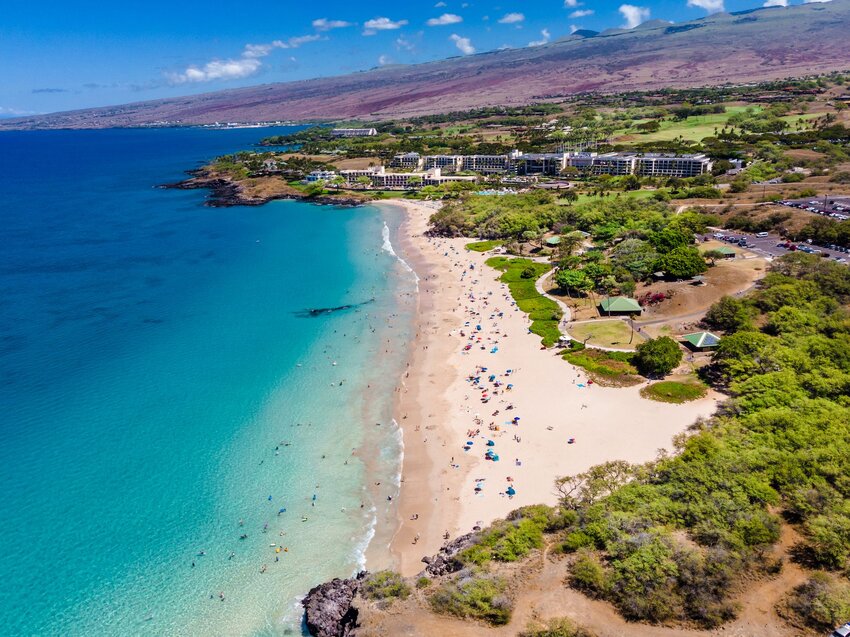 If your perfect beach is a quintessential stretch of dazzling white sand and crystal blue water, Hapuna State Beach is for you. Consistently ranked as one of the top ten beaches in the Hawaiian Islands, Hapuna comes with food vendors, showers, restrooms, picnic areas, a grassy slope, and shade trees. Early in the year you might see migrating humpback whales offshore, and all year long the water is perfect for swimming, bodyboarding, and snorkeling, though as is true on most Hawaiian beaches, the surf will tend to be higher in the winter months and far gentler in summer. Hapuna's wide beach is a perfect picnic and sunbathing spot, and the walk up and down the long stretch of sand will loosen up even the laziest of sun-worshippers. You'll find Hapuna along the Kohala Coast just north of the Waikoloa road.
Kua Bay
THE BIG ISLAND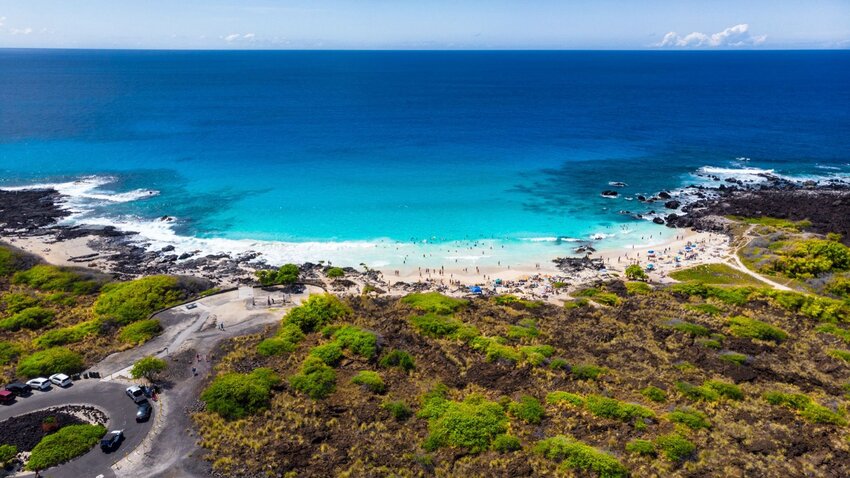 Farther south on the western shore of the Big Island, try Kua Bay—properly known as Manini'owali Beach–for another spot that beckons swimmers into the water. More secluded and far smaller than Hapuna, Kua Bay is a sparklingly clear curve of water lapping up against a combination of black lava rock and white sand beach. The contrasts create a picture-perfect spot for a Hawaiian afternoon of sun, sand, and swimming. Sea turtles and dolphins make frequent appearances, and the water is great for snorkeling in summer, but expect larger waves in the winter. Bring your own picnic and drinks, as only the occasional food truck happens into the parking area. And, don footwear that allows you to cross at least ten feet of lava rock to reach the sand. Showers and restrooms are available in the parking area, but there is no shade at Kua Bay, so bring a hat or umbrella. Sunsets here are spectacular; try to visit during the fall or winter, when the parking area will be open past sunset (it closes before sunset in summer.) Finally, Kua Bay's popularity can make it crowded on weekends, so try to visit during the week for a day of fun in the water.
Hanalei Bay
KAUAI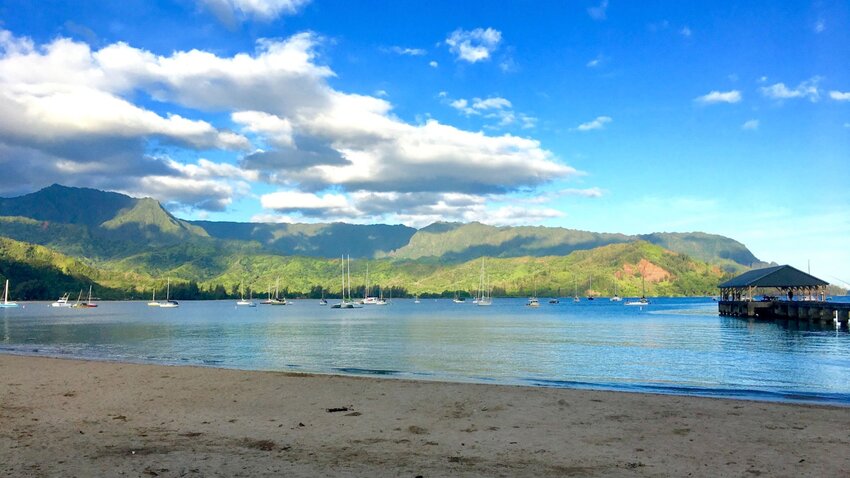 The largest bay on the north shore of Kauai is Hanalei Bay, a two-mile sweep of flat beach surrounded by steep, jungle-clad mountains. This picturesque spot is perfect for swimming and stand-up paddle boarding in summer, and in winter the surfing is awesome. A long, covered pier is a favorite spot for fishing and picnicking, and kids of all ages will enjoy leaping from it into the crystal-clear water. The beach slopes so gradually into the water that it makes a wonderful play area for little ones just learning to swim (when there's no surf), and the long span of water is fantastic for distance swimmers. Restrooms, showers, and picnic tables are available, though parking can be crowded on weekends. At the edge of Hanalei River, which meets the sea near the pier, a small boat ramp makes the launch of kayaks and paddle boards easy. With over 12 miles of passage up the river, you'll encounter coconut palms, hibiscus flowers, and even endangered wildlife such as the nene (Hawaiian goose). When you've had enough sun and water, take a very short walk from the bay to Hanalei Town, where you will find charming restaurants, shops, and galleries. For a peek into Kauai's history, visit the Waioli Mission House.