from Day by Day with the Persecuted Church
Noah
By faith Noah, when warned about things not yet seen, in holy fear built an ark to save his family… (Hebrews 11:7)
…and he walked with God. (Genesis 6:9)
An extraordinary aspect of Hebrews 11 is that it tells the story of people who all did something which no one else had ever done before. They stepped out into the unknown.
Noah built an ark though there was no precedent he could look to for assistance. Nobody had ever built an ark before, simply because there had never been a flood before. Noah must have been regarded as an eccentric and his sons as simple people who foolishly followed in their father's steps of faith.
In blind, unquestioning faith Noah acted on God's revelation. "Noah did everything just as God commanded him" (Genesis 6:22). In doing so he showed his unwavering faith and absolute obedience.
His secret, he walked with God amidst adversity. Throughout this year we will face circumstances which may seem absurd but let us learn from Noah that those who walk with God will never walk in darkness but will have the light of life.
Copyright [C] 1995 Open Doors International. Used by permission.
Click here to sign up for a free monthly newsletter from Open Doors about persecuted Christians.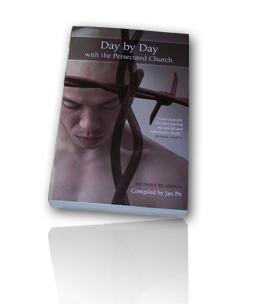 Day by Day with the Persecuted Church
compiled by Jan Pit with a forward by Brother Andrew (paperback, revised 2000)
Compelling wisdom from the pen of actual believers living amidst persecution, you'll be connected to the suffering, courage, and depth of life that exists in the harshest places in the world. Each of these 365 thought-provoking devotions will deepen your understanding of Christian persecution and provoke you to pray for our brothers and sisters with a new found depth.