from Day by Day with the Persecuted Church
The Israelites groaned in their slavery and cried out, and their cry for help because of their slavery went up to God. God heard their groaning and he remembered his covenant with Abraham, with Isaac and with Jacob. So God looked on the Israelites and was concerned about them. (Exodus 2:23-25)
Moses
God knows our needs. He is aware of our struggles, our hardships and our tears. He sees how His people are being persecuted. He sees your spiritual groaning; for your children, for your health, for your loneliness. "And God remembered his covenant." God's promises are "yes" and "amen."
Despite all our circumstances He assures us, "I am with you." We may groan and cry – as long as we direct our cries towards Him who is our help and our salvation. "He was concerned about them." He still is. He is concerned about His children who suffer.
Whatever your situation may be, "Your help comes from the Lord … He will not let your foot slip … the Lord watches over you … the Lord will keep you from all harm" (Psalm 121). "And God is faithful; He will not let you be tempted, he will also provide a way out so that you can stand up under it" (1 Corinthians 10:13).
Copyright [C] 1995 Open Doors International. Used by permission.
Click here to sign up for a free monthly newsletter from Open Doors about persecuted Christians.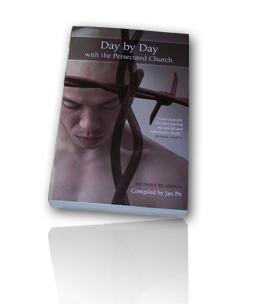 Day by Day with the Persecuted Church
compiled by Jan Pit with a forward by Brother Andrew (paperback, revised 2000)
Compelling wisdom from the pen of actual believers living amidst persecution, you'll be connected to the suffering, courage, and depth of life that exists in the harshest places in the world. Each of these 365 thought-provoking devotions will deepen your understanding of Christian persecution and provoke you to pray for our brothers and sisters with a new found depth.