from Day by Day with the Persecuted Church
"…are you for us or for our enemies?" "Neither", he replied. … Then Joshua fell face down to the ground in reverence and asked him: "What message does my Lord have for his servant?" (Joshua 5:13,14)
Joshua
Shortly before the first big confrontation with Jericho, Joshua had a very strange encounter himself.
He had only just been called to be the leader of his people, and now he has been asked to surrender his leadership to the commander of the army of the Lord.
Joshua's spiritual maturity is proven by the fact that he would rather be second-in-command in God's army, than first-in-command of his own.
When asked if the man was for or against the Israelites, his only reply was, "neither." What the messenger of the Lord was really saying was "I have not come to take sides. I have come to take over."
Whoever is willing to surrender the leadership to God will experience that no wall is too high for God, no river too deep, no problem too great.
Got any rivers you think are uncrossable?
Got any mountains you can't tunnel through?
God specializes in things thought impossible; He does the things others cannot do.
Copyright [C] 1995 Open Doors International. Used by permission.
Click here to sign up for a free monthly newsletter from Open Doors about persecuted Christians.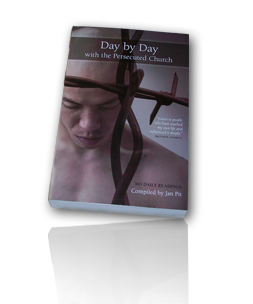 Day by Day with the Persecuted Church
compiled by Jan Pit with a forward by Brother Andrew (paperback, revised 2000)
Compelling wisdom from the pen of actual believers living amidst persecution, you'll be connected to the suffering, courage, and depth of life that exists in the harshest places in the world. Each of these 365 thought-provoking devotions will deepen your understanding of Christian persecution and provoke you to pray for our brothers and sisters with a new found depth.