from Day by Day with the Persecuted Church
By faith the walls of Jericho fell, after the people had marched around them for seven days. (Hebrews 11:30)
Joshua
After Joshua's voluntary surrender of his leadership to the commander of the army of the Lord, some more strange orders followed. "March around the city." "Make seven priests carry trumpets in front of the Ark." "Do not give a war cry, do not raise your voices, do not say a word until the day I tell you to shout."
Very unusual military commands. An army does not show itself to the enemy. You don't ask the chaplains to walk in the front lines, waving their Bibles.
It seemed so illogical, unprofessional, and unmilitary. God's way of doing things often seems unreasonable.
Joshua had to learn that this was not going to be his war, done in his way, but God's war, done in God's way. He responded with an unquestioning obedience.
Faith expressed in obedience to God's Word is always the key to victory. And victory came because Joshua and his people fully trusted God.
When you face a "Jericho" in your life, you too may see the walls tumble down as you trust in God and in His way of handling a crisis situation.
Copyright [C] 1995 Open Doors International. Used by permission.
Click here to sign up for a free monthly newsletter from Open Doors about persecuted Christians.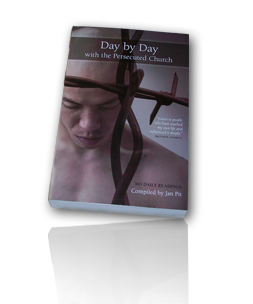 Day by Day with the Persecuted Church
compiled by Jan Pit with a forward by Brother Andrew (paperback, revised 2000)
Compelling wisdom from the pen of actual believers living amidst persecution, you'll be connected to the suffering, courage, and depth of life that exists in the harshest places in the world. Each of these 365 thought-provoking devotions will deepen your understanding of Christian persecution and provoke you to pray for our brothers and sisters with a new found depth.