from Day by Day with the Persecuted Church
Dear friends, do not be surprised at the painful trial you are suffering, as though something strange was happening to you. But rejoice that you participate in the sufferings of Christ. (1 Peter 4:12-13)
Sister Maria
Many Christians today live with the false hope that peace will come to this world one day, that famine and persecution will end. his utopia is not in accordance with God's Word.
When I was arrested, His words immediately came to me, When these things begin to happen, "…be on your guard" (Mark 13:9).
Instead of peace on earth we see hunger, disease and war. This happened in my country too. We were promised food, health and peace, but we soon discovered that there was no room for God in an atheistic environment. Our churches were closed, our Bibles burnt and our pastors arrested. Because I taught children about the Lord, I, too, was arrested. Only when the heavy cell door shut behind me and I was left naked in the cold darkness, did the words of Jesus make real sense to me, "Be on your guard."
I do not want to be negative and frighten you. I only say: "…be on your guard." Even when things look like improving in the world today, we do not have any guarantee of freedom from persecution.
Together with the warning: "…be on your guard" comes this other truth, "Rejoice". Peter said it, Paul wrote about it from prison, Jesus exhorted us, "Rejoice".
I can only add, you can.
Sister Maria from Mozambique. She had been imprisoned under severe circumstances. Sister Maria uses a pseudonym.
Copyright [C] 1995 Open Doors International. Used by permission.
Click here to sign up for a free monthly newsletter from Open Doors about persecuted Christians.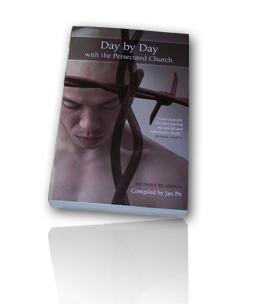 Day by Day with the Persecuted Church
compiled by Jan Pit with a forward by Brother Andrew (paperback, revised 2000)
Compelling wisdom from the pen of actual believers living amidst persecution, you'll be connected to the suffering, courage, and depth of life that exists in the harshest places in the world. Each of these 365 thought-provoking devotions will deepen your understanding of Christian persecution and provoke you to pray for our brothers and sisters with a new found depth.