from Day by Day with the Persecuted Church
I rise before dawn and cry for help; I have put my hope in your word. (Psalm 119:147)
Very early in the morning, while it was still dark, Jesus got up, left the house and went off to a solitary place, where he prayed. (Mark 1:35)
Sister Maria
With our full schedules today we have little time to study the Word of God and pray. We have either been so busy – and thus too tired to pray – or we sleep-in the next morning (because we went to bed so late!). So we always seem to have an excuse for not praying.
Satan does not mind if we work overtime – even if it is for the Lord – as long as he can keep us away from praying and studying the Word of God.
Somebody once said, "If the first minute is for God, the whole day will be. If the first minute is not spent with God, neither will the remainder of the day."
There is never an excuse for not praying. Let us get our priorities right. We will soon discover that the time spent in fellowship with God, will enable us to face the remainder of the day in peace and victory.
Have you lost your peace, your victory? It can be found again. Take time to pray and to read God's Word.
Sister Maria from Mozambique. She had been imprisoned under severe circumstances. Sister Maria uses a pseudonym.
Copyright [C] 1995 Open Doors International. Used by permission.
Click here to sign up for a free monthly newsletter from Open Doors about persecuted Christians.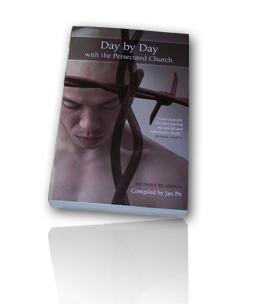 Day by Day with the Persecuted Church
compiled by Jan Pit with a forward by Brother Andrew (paperback, revised 2000)
Compelling wisdom from the pen of actual believers living amidst persecution, you'll be connected to the suffering, courage, and depth of life that exists in the harshest places in the world. Each of these 365 thought-provoking devotions will deepen your understanding of Christian persecution and provoke you to pray for our brothers and sisters with a new found depth.