from Day by Day with the Persecuted Church
The Lord provides food for those who fear him. (Psalm 111:5)
Brother Jacob
When I was arrested I was worried about my family. How would they cope without me? I realized however that to worry about them would not solve their problems; neither would it make prison life easier for me. At the same time I had to prove to my fellow prisoners that, as a Christian, I had no reason to worry. I prayed for my family, that the Lord would take care of them.
Some weeks after my arrest, a woman brought some food to me in prison. This is a custom in our country. The food was nicely prepared, a bowl of rice with meat on top. I started eating the food with great enjoyment. When I got close to the bottom I saw that something was hidden there. I carefully scraped the rice away with the spoon to find a tiny plastic bag. Inside the bag was only a piece of paper. My hands shook as I pulled the scrap of paper from the plastic. It was a very short note from the lady who had brought me the food, saying, "Your family is fine. Other Christians are looking after them. We pray for you." Peace and joy flowed into my heart.
Worry breaks us down. Trust builds us up. Put your trust in the Lord – for yourself, your loved ones and for your fellow Christians, because He cares.
Brother Jacob from Mozambique. He and Open Doors work closely together.
Copyright [C] 1995 Open Doors International. Used by permission.
Click here to sign up for a free monthly newsletter from Open Doors about persecuted Christians.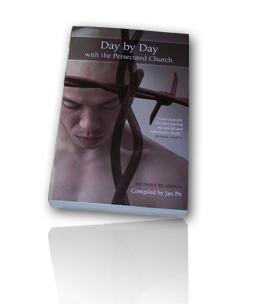 Day by Day with the Persecuted Church
compiled by Jan Pit with a forward by Brother Andrew (paperback, revised 2000)
Compelling wisdom from the pen of actual believers living amidst persecution, you'll be connected to the suffering, courage, and depth of life that exists in the harshest places in the world. Each of these 365 thought-provoking devotions will deepen your understanding of Christian persecution and provoke you to pray for our brothers and sisters with a new found depth.