from Day by Day with the Persecuted Church
Father, forgive them, for they do not know what they are doing. (Luke 23:34)
Grace Dube
Benjamin was not alone when he was killed. One of my sons was with him, Benjamin Jr. He was only 12 years old and managed to escape. From behind a barrel he saw what they did to his father. He came running home to Soweto to tell me what had happened. Even though my husband had predicted what would happen I could not believe it had happened.
My son Benjamin went to his room and wept and wept, all night. Then the Lord did something in the heart of my boy. He heard a wonderful voice, like his father had heard. His father had often told him, "Benjamin, you must take my place to sing for the Lord if anything happens to me." Early the next morning I heard singing coming from my son's bedroom. At first it was a broken voice, but then, it became clearer and clearer. I could hear my boy sing to the Lord. He sang a verse from the Scripture, "Father forgive them, for they do not know what they are doing."
I could hardly control myself. O Lord, make me like my children. Help me to forgive.
My son and I have sung this wonderful song together ever since, in many meetings, in many countries, to many people who are hurt – and who need to forgive also.
Father forgive us, because we too do not always know what we are doing.
Grace Dube from South Africa. Her husband was stabbed to death. She continues to preach his message of forgiveness.
Copyright [C] 1995 Open Doors International. Used by permission.
Click here to sign up for a free monthly newsletter from Open Doors about persecuted Christians.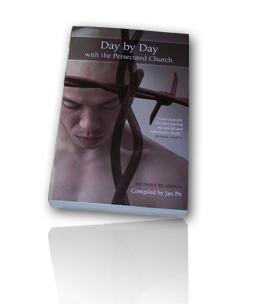 Day by Day with the Persecuted Church
compiled by Jan Pit with a forward by Brother Andrew (paperback, revised 2000)
Compelling wisdom from the pen of actual believers living amidst persecution, you'll be connected to the suffering, courage, and depth of life that exists in the harshest places in the world. Each of these 365 thought-provoking devotions will deepen your understanding of Christian persecution and provoke you to pray for our brothers and sisters with a new found depth.