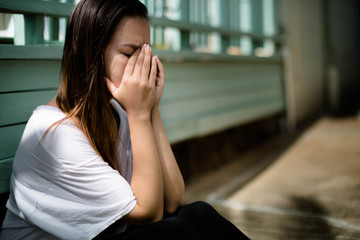 God, I'm overwhelmed, you pray as the hours go by throughout the night. You know your alarm is set to go off in a few hours, but you haven't gotten any sleep. You feel too irritable to relax and not worry about what the day has in store. You may be facing hardships right now—and you don't know how to deal with the anxiety. You may feel that at the end of each day, you got nothing done and feel completely unproductive, even though you were up early and didn't go to bed until late at night. Perhaps you committed to something that you now feel is too big for you to handle, and you feel fearful.
Whatever situation you find yourself in, you're now wrestling all night long with the heavy burden with the feelings of failure and regrets. Do you know the way you should turn when you are feeling burdened down by the stresses of life? Don't search for strength within your own ability. Don't think, if I just allow myself to wallow in self-pity, I'll feel better tomorrow. No, my friends. That is not the answer; The answer is in the Lord.
Cry out to Him—if you don't have it all figure out, that's okay , God doesn't tell us to figure it out on our own. God will give you wisdom in that situation that is not only taking all of your time, energy and heart, but He will give you strength to go through. Turn it over to God. Tell Him how overwhelmed you feel. He won't be disappointed in you. There is no way you could ever disappoint God, He's omniscient (all knowing) He knows all of your past, present and future mistakes and He still loves you. Tonight, turn to the Father. Run into His loving arms, He is full of love, grace and mercy. Don't worry Child of God. The Lord is fighting for you. You don't need to be under the weight of anxiety and depression any longer. You can emerge out of that dark place, encouraged by the goodness and faithfulness of God.
Are you exhausted by the pressures of life right now? Are you overwhelmed from the weight of it all? Rest in Jesus today, He can carry you through.
Kingdom Resource