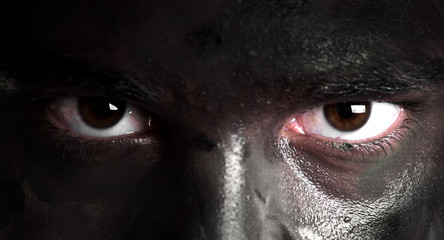 To understand the battle of spiritual warfare, we first must acknowledge that we are in a war. When we hear the word war we think of combat or a battle between of two people that consist of a struggle or controversy. As Believers, we are in a spiritual battleground every day of our lives. Our battles as Believers is spiritual, we cannot see our attacker. But we learn how to fight the battles that are fought in the spiritual realm, and how they have a tremendous impact on our everyday lives.
You are in a spiritual battle rather you want to be or not; there is a battle going on regardless of your opinion. We are either more than conquerors or the conquered. Jesus came to conquer. The war has already been won; we just have to stay in the fight! Everyday victory is achieved by taking authority over the devil, you are either running the devil or he's running you!
This Kingdom Bible Study Guide will give the insight on where, how and what the spiritual battle looks like in our lives and how to win in spiritual warfare. This book discusses what the Bible teaches regarding spiritual warfare and you will learn how to apply the scriptures to your personal lives to obtain victory over these spiritual battles. It begins with learning the truth of what the scriptures teach and dispelling the lies of the enemy.
Many Believers want to remain ignorant of the reality of spiritual warfare because they do not want to deal with the devil. Before we can discuss the battle, we have to believe in the spiritual realm. We tend to act like little children who closes their eyes during a scary movie, believing that if we can't see it then it's not there. Just because you want to pretend you are not in a spiritual battle, does not mean you're not. The best defense is not ignorance but learning about the spiritual realm and the weapons given to us in order to be victorious.