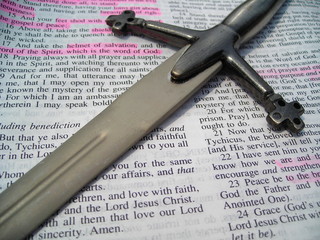 Never forget that breakthroughs seldom come without a battle. Don't be in despair if your victory doesn't happen as quickly as you think it should, nor be discouraged if you encounter a difficult battle before your breakthrough. I heard my Apostle say in his message this past Sunday, "things always get worse before they get better." If you are like me and you are struggling to shake off the memories of past failures, remember what God said in His Word, "though the righteous fall seven times, they rise again (Proverbs 24:16). No matter how far or how often you may have fallen, you can get back up again….
Having a relationship with Jesus doesn't mean you will be free of struggles and hardships. Life can be tough, and even as a Kingdom Citizen (Christian) we still face many challenges. Before we were saved, we were of no threat to the Devil but after we gave our life to Jesus, we became an enemy of Satan.
We live in two worlds—the natural and the spiritual world. When we find ourselves faced with battles, we must realize that there is much more going on than we see with our natural eyes. As a result, our fight on the battlefield must be fought with spiritual weapons.
God did not leave us defenseless or sent us into battle unequipped. He gave us a powerful weapon: His Word. But too often we fight in the flesh which manifest things like depression, addiction, sickness or relationship conflicts.
The Bible is referred to as the Sword of the Spirit (Ephesians 6:17). God's Word is the final authority over the lies of the enemy. Something begins to happen in the spirit realm when we open up our mouths and speak God's Word. God's Word will dethrone principalities and release power for you to trample over all power of the enemy.
Remember, Child of God you are not in a fight for victory—victory is already yours. It's a fixed fight all you have to do is stay in the ring and declare that you have the victory.
2 Corinthians 10: 3-4 says, though we walk in the flesh, we do not war after the flesh, for the weapons of our warfare are not carnal, but mighty through God to the pulling down of strong holds.
Did you catch that? Your spiritual weapons are mighty in God to overcome strongholds of the Devil. Through the Truth of God's Word, you have been given authority over the Devil. In exercising this authority, you let the enemy know he no longer has permission to run havoc in your life, he is trespassing.